T-shirts and Masks
In true Respect Massage fashion – I am laying the SMACK DOWN on all the awful t-shirts for massage therapists out there. How do we expect to be respected by the public when all massage therapist apparel is glowing hands and silly rhymes? Finally, simple, classy t-shirts for massage therapists along with face masks and other apparel that you will be proud to wear. Wear your credentials and show that you are in a highly regarded membership of strong, empowered massage therapists.
Water Bottles, Totes, and Blankets
Wearing the Respect Massage logo or using it in various places in your office is a way to deter sexual solicitors in your massage therapy business. It is one more way to keep massage therapists safe. The logo sets a clear boundary. As I have said before, if a client is looking for a happy ending – that is what they want. So, if you make it clear that you do not offer that, it will keep those clients out of your office. It does not get any more clear than wearing a shirt that says "zero tolerance" or drinking out of a Respect Massage water bottle. To your well meaning-clients, you look classy and professional.
Pins, Mugs, and Magnets
Everyday usable items to make your messaging clear throughout your massage office. While sipping on tea during the intake process, you can make it clear that you are a massage therapist that takes safety seriously. A subtle way to say, "not here, buddy. Not on my watch".
Stickers and Window Decals
You can have the Respect Massage logo right on your front door, so the first thing your clients see is the clear boundary you are setting as a therapist. Heavy duty stickers and decals for windows, water bottles, your phone, your car – anywhere!
Social Media Images
50 ready to use, shareable social media images. Make the message clear that you are a zero tolerance practice that is a Respect Massage Member. Enough images for one post a week for an entire year!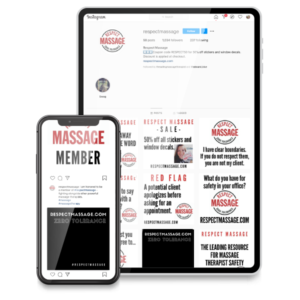 So, the search in finally over. Lots of t-shirts for massage therapists to choose from, not to mention all the other goodies. Perfect to wear at chair massage events, in the office, or out and about. A great conversation starter.
Respect Massage is the only comprehensive resource for massage therapist safety. If you have just found us, welcome! Membership is free. Download the logo and begin your journey as a Respect Massage member. Use the logo on your website and social to deter sexual solicitations.
Support and Mentoring – email Joyce at hello@respectmassage.com