Screen massage clients to protect you and your practice from potentially dangerous situations. The purpose of screening your clients is to prevent unwanted clients from entering your practice. It is a delicate dance, however, because most of the clients you will be screening are well-meaning. Here are suggestions for how to screen massage clients in a way that is professional and welcoming to your well-meaning clients, but in way that acts as a clear boundary and deterrent to sexual solicitors.
Questions to 

A

sk 

E

very 

C

lient
Why are you coming to get a massage?

 

Why did you choose this massage business in particular?

 

 What has been your experience with massage therapy in the past?

 
Make sure you screen massage clients on the phone or video chat. If a client will not talk to you on the phone and only wants to message, that is a red flag in itself. Even if a client is a referral, still make a point to speak to them before scheduling them. I once had a client whose mom scheduled the appointment for him and he was inappropriate. You never know . . .  
In 

A

ddition to a 

S

creening 

P

rocess
Coupled with your screening process, you can deter a sexual solicitor by putting up a few barriers to scheduling with you. By implementing these steps that must be taken to become your client, you will attract serious, invested clients and deter all the rest. 
 Have new clients pay in advance with a credit card. If a client is looking for a happy ending, they are not going to want to give their personal information in case the police get involved. They will do their best to keep their identity anonymous.

 Request personal information such as last name, address, phone number, etc.

Have new clients fill out the intake form in advance. There are lots ofbenefits to this, the number one being you come off as a medical professional. Massage parlors do not have intake forms. Having the client fill out the intake form in advance also gives you a chance to review their health history, do any research you need beforehand, and, if you encounter contraindications, you can address them before the scheduled appointment.

 
What 
D
o 
Y
ou 
S
ay 
I
f 
Y
ou 
D
o 
N
ot 
W
ant to 
B
ook a 
Client
?
If during the massage screening process you realize you do not want to work with this client, there is no need to shame them. Respect Massage is all about empowering massage therapists. Take the high road, remain professional, and leave the situation feeling good about yourself and the choices you made. You can simply say: 
"I am not taking any new clients."

"My schedule is booked six weeks out."

"We are not a good fit."
Obviously, if a potential client is outwardly inappropriate during the screening process, you do not need to sugar coat your response. Be firm and direct and let the client know in no uncertain terms that you are not interested in their business.  
By the time you receive the answers to your massage therapy screening questions, you will have a very good idea of the intentions of a client. If you are unsure, ask more questions. Ask about past injuries or illnesses—get medical. Ask questions from your intake. You should never have to go into a session scared. Trust your instincts—they will not lead you astray. If you are still wary and think you should have a friend or family member in the office with you during the session, then you should not book that client. If you are not 100 percent sure of their intentions, do not invite them into your space. No amount of money is worth your safety.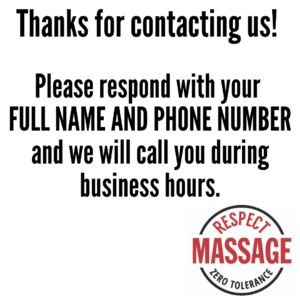 The Respect Massage logo is a great way to screen clients if they are texting or messaging you. FREE DOWNLOAD HERE
Also see: How to Respond to Inappropriate Texts
Want more?
Protect You and Your Practice from Solicitors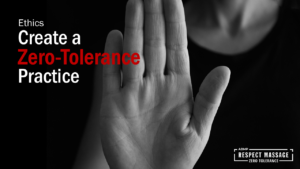 Take the ABMP Respect Massage CE course, "Ethics: Create A Zero-Tolerance Practice," for a complete list of 30+ red flags, how to spot sexual solicitors before they are on your schedule, excuses to get out of dangerous solicitations, plus real–life practice scenarios to test how you would react when your boundaries are challenged.
The Logo Works
Protect your business with the Respect Massage logo. Use it as a deterrent for sexual solicitors. The Respect Massage Zero Tolerance logo makes it clear that your business is not a parlor and does not provide happy endings.
Share the #RespectMassage Movement
Share this link and information with other massage therapists and bodyworkers you know. We can shut down sexual solicitations if we stand together and know what to look for.
For more information about ABMP membership, liability insurance, legislative advocacy, podcasts, magazines, and continuing education, go to ABMP.com.