A security system for my massage therapy office always seemed too expensive and out of reach. After all, I'm a small business owner on a budget, and I assumed security systems were something for the rich kids. Oh, how I was wrong. The best security systems for small businesses can often be the most affordable. We work in small offices, so using a home security system can be a perfect fit for our budget, while at the same time delivering the protection we need as solo business owners. 
Respect Massage offers tactics like screening, identifying red flags, getting out of dangerous situations, safety tips, and safety guidelines. I feel compelled to answer the question "How do I protect myself as a massage therapist?" in as many ways as possible. A monitored security system is like having another person with you in case of an emergency. We can do our best to screen clients, but sometimes sexual solicitors can slip through the cracks. We can't always afford a full–time receptionist, and we have asked our friends and family members to sit in the office too often. An affordable security system is another tool you can have to protect yourself. 
I have compiled a roundup of the best security systems under $250 that would be great options for a one- to two-room massage therapy practice. I compared each security system based on features that are specifically important for protecting yourself as a massage therapist: 
24/7Monitoring

 

 Panic Button (calls the police through a silent button that you can place under your massage table, on the wall, in the doorway, oranywhere on your body, like a necklace or bracelet)

 Fire Alarm (how many times have you arrived home after a long day and realized you left your hot stone warmer on?!)

 Security Camera

 No Contracts

Alexa Compatible
SimpliSafe is a complete system you can pull out of the box, set up, and start using right away. SimpliSafe checks all the boxes and is my favorite pick for a security system for a massage therapist. It is not always easy to find security systems that let you "build your own" system, and SimpliSafe offers that. You are not paying for items you do not need. Not to mention, SimpliSafe's installation is peel and stick, and all the components are preprogrammed. This installation is approachable even if you're not tech–savvy.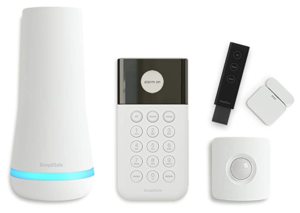 24/7 Monitoring (optional—starts at $14.99/month)

Panic Button

Fire Alarm

Security Camera

No Contracts

Alexa Compatible
If you're only looking for an affordable panic button, this is a neat option. Actually, you can set up this button to do pretty much whatever you want. You can have it turn on your lights or music, alert a contact that you are in danger, call the police, or turn on your Google Maps, for instance. Since it does rely on being connected to your phone through an app, there is a chance it may not work properly 100 percent of the time—which would make me a little nervous if I were relying on it for my safety. There are some pretty incredible reviews for the Flic Button on YouTube, and there are also some really awful ones on Amazon from a few years ago. I hope they have worked out the kinks by now. At the price point, it is definitely worth playing around with. 

No Contracts

Alexa Compatible
❌ 24/7 Monitoring
❌ Fire Alarm
❌ Security Camera
There are lots of massage therapists out there using Ring. Ring markets toward people with small spaces like apartments, condos, and small homes, so it's a natural fit to accommodate small massage offices. Ring is priced almost identically to SimpliSafe and offers the same features, including pairing with Alexa so you can easily arm and disarm using your voice. Ring is a close second to SimpliSafe as my personal pick for a security system for a massage therapist. The difference is that SimpliSafe does a better job of explaining exactly what you are getting with their product. I appreciate transparency. There are vigorous online debates about which is the better option between SimpliSafe and Ring.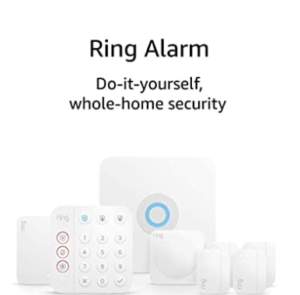 24/7 monitoring (optional—$10/month)

Panic Button

Fire Alarm

Security Camera

No Contracts

Alexa Compatible
Blink does not have all the bells and whistles of a full security system. Blink only provides wireless security cameras. 

No Contracts

Alexa Compatible
❌ 24/7 monitoring
❌ Panic Button
❌ Fire Alarm
Most of us are familiar with ADT—I have seen their lawn signs in front yards of fancy houses with security systems for decades. This old dog has learned new tricks with a do-it-yourself option. You still get the lawn sign and window stickers when you purchase this version. However—and for me this is a dealbreaker—there is no panic button included in the ADT DIY package. I believe a panic button is a necessity if making the investment in a security system for a massage therapist. It also has no backup if the WiFi or cell coverage goes out. I would go with SimpliSafe or Ring over ADT as the best security system for a massage therapist.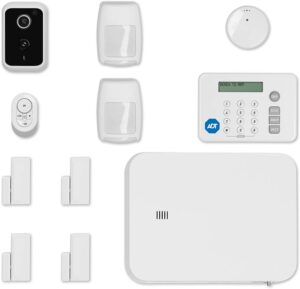 24/7 monitoring (optional—ranges from $27.99 to $52.99)

Fire Alarm

Security Camera

No Contracts
❌ Alexa Compatible
❌ Panic Button
Conclusion
In conclusion, my hope is that you can utilize a security system in your office (and your home) to help protect yourself as a massage therapist. Having clear marketing, a strong screening process, awareness of what to look for, and safety measures and security options is the recipe for a well–protected therapist.
Stay safe therapists,
Joyce
Want more?
Protect You and Your Practice from Solicitors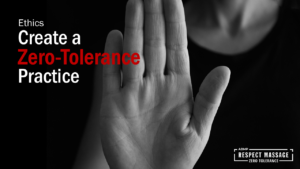 Take the ABMP Respect Massage CE course, "Ethics: Create A Zero-Tolerance Practice," for a complete list of 30+ red flags, how to spot sexual solicitors before they are on your schedule, excuses to get out of dangerous solicitations, plus real–life practice scenarios to test how you would react when your boundaries are challenged.
The Logo Works
Protect your business with the Respect Massage logo. Use it as a deterrent for sexual solicitors. The Respect Massage Zero Tolerance logo makes it clear that your business is not a parlor and does not provide happy endings.
Share the #RespectMassage Movement
Share this link and information with other massage therapists and bodyworkers you know. We can shut down sexual solicitations if we stand together and know what to look for.
For more information about ABMP membership, liability insurance, legislative advocacy, podcasts, magazines, and continuing education, go to ABMP.com.